Podcast: Play in new window | Download | Embed
Subscribe: Apple Podcasts | Android | Email | Google Podcasts | Stitcher | TuneIn | Spotify | RSS | More
Martha's Vineyard, Gingerbread Cottages, Yachts, Beer, and an interview with Lauren Bates of Wild Terrains, a trip planning resource, we focus on short trips and enjoying travel this week.
We also answer a commonly asked question about whether or not we get tired/overwhelmed/burnt out from moving around so often.
And I've never been to Boston in the Fall! This is from one of mine and Zach's favorite groups, Relient K. This is still true, but I've now been in the winter, for work, and will soon be there during the summer. So I'm bound to be there in the fall at some point. We are technically reserved to be in MA for 4 weeks, but we are bouncing all over this month. We left Rhode Island and arrived in MA last Saturday. The following day, we drove to New Hampshire so that Zach could be on site for a client engagement. I don't usually tag along, but it was only about a 2 hour drive, so we packed a bit hit the road. We came back late Tuesday night, and then packed up again Thursday night so we could leave right after work on Friday for our weekend getaway to Martha's Vineyard and Nantucket. Next on our list of travels, we fly out this Sunday to Atlanta so that I can be on site for work and then we are staying for DragonCon (see episode 15).
Phew. We had a really great question from a listener, that we get fairly often, so we talk about it after the interview this week. Do we get tired moving around so much? Short answer, no we don't. We have found a great routine for move days, and it is so much fun to arrive at a new campsite and start exploring the city!
We had a great time this past weekend relaxing and unwinding on a small yacht that we found on Airbnb. (get $40 off your first trip with this link). We took the Hy-Line ferry, because we know they allow dogs (Thanks Captain Pete!), and our dog did really well. I was worried as Ollie can sometimes get motion sickness in the car, but he had no problems. (Not his first ferry boat ride after all!) We sampled from Cape Cod brewery on the ferry.
Leaving from Hyannis, we arrived in Oak Bluff on Martha's Vineyard where the captain picked us up on his dingy and took us back to the boat to get settled.
So we got to the yacht, and it has small covered area with seats up top to hang out on, and then go below and there is an open space with a table and bench, and then where we stayed was off to the right, we had a private little bathroom, and bed, on the other side was the kitchen area, pretty small but still a stove and fridge and coffee maker. And then the captain's room and bathroom. The first night we watched Captain Ron, we tried to hang out up top for a bit, but with the rain we just decided to go to our room and relax, it was a good choice because the next day we did a ton of walking. We went to brunch, explored the area, went to a museum.
My favorite thing about Martha's vineyard was the Gingerbread Houses. These houses are so whimsical, they look like they lept off of a page in a fairy tale. Or maybe I stepped through a portal for a moment?
There are over 300 of these little homes making up what is known as the Cottage Colony on Martha's Vineyard. These homes have been around since the 1800's, and many have been passed down over generations of families.
Some of these cottages are actually available to rent (going on my bucket list). The origin of the homes goes back to one of the great Revival's, it was a gathering of Methodists, and the homes started as seasonal tents. They would decorate with flowers, lights, fabric, and then as they kept returning, year after year, they started making permanent one room homes, then they grew to two or more rooms, and some have more than one story. Historical rules these days don't allow structural changes, but from the moment a woman first painted her home a vibrant pink, selecting colorful paint choices/combinations is now a tradition.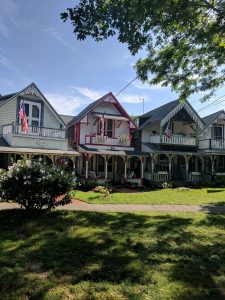 The gingerbread description came about because people would try to outdo their neighbors with the trim work and designs, and they began to resemble the intricate gingerbread houses from stories.
We definitely recommend visiting the Cottage Museum, to learn more about the history and see artifacts from the era such as furniture, toys, dishes, photos, etc.
Heading back to the boat by 2, so that we could sail to Nantuckett limited our time, but we made the most of it and enjoyed our quick visit. It was a four hour sail and I did not handle it well, I started out fine, had a Martha's Vineyard Ale, from Bad Martha and the weather was great, Maybe I should have just stayed up top, but I decided to take a nap, and when I woke up I was sea sick, not bad, just bad enough that it was a struggle to stand up.
Recovered well though, so we had a later dinner on Nantucket, the one time I took a break from seafood, we had BBQ, BYB which I think is somewhat new according to our captain.
We didn't spend as much time on Nantucket, and I definitely want to go back to both and spend more time exploring and experiencing. But I think this weekend was just what I needed, no pressure, just relaxing and enjoying and taking each moment as it came.
One goal of this podcast is to provide resources to those who want to travel more. Lauren Bates of Wild Terrains has a similar goal, she wants to help reduce the stress and effort that goes into planning a trip.
From the website: "Lauren started Wild Terrains out of a passion for travel and a love of planning adventures. She has spent time in over 30 countries across 5 continents, lived in both Argentina and Peru, and spent 6 months backpacking solo through Southeast Asia. Lauren is a dynamic storyteller, brand builder and digital marketing expert. She is known for seeking the most authentic cultural and local experiences everywhere she goes, and documenting them through photography and written word along the way. When Lauren is not traveling, she is also the CMO at UrbanStems. She calls Washington, DC home."
A main reason some people say they can't travel more is time, many of the guides on Wild Terrains are really tailored to a long weekend or a quick getaway. But planning short trips can sometimes take as much time as planning long ones, so why bother? Wild Terrains takes away some of the planning, so you can focus on the journey and the adventure. Read the guides to find out where to eat, where to drink, what to experience, and where to stay. For some of the out of the way destinations, the guides help with how to get there as well.
All free to use, and as Lauren will explain, some of these guides came about from short 3-4 day trips that she took herself, just taking advantage of long weekends.
It's a great concept, takes away some of the stress/time of planning a short trip somewhere, and it's free, so when we heard about it, we wanted to interview the creator behind it, learn more about the site and her own travels, and it was a great conversation.
Be sure to check out the episode and let us know what you think!
Send us questions and comments on Facebook or Twitter @ListenTL.
Resources Mentioned
The Portland, Maine guide we are excited to use.
Lauren's resource for great deals on flights is Scott's Cheap Flights. We have yet to use it so cannot offer our perspective but it was also suggested by Steven in episode 004.